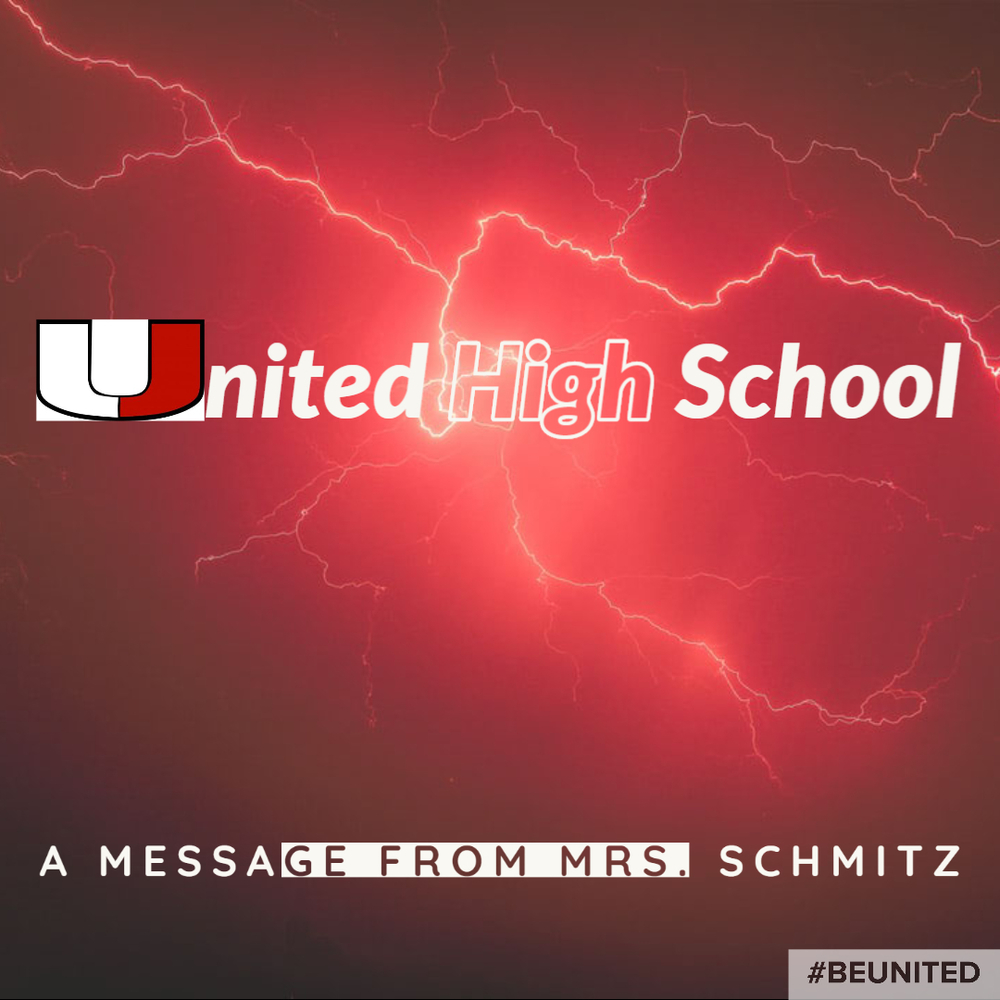 A message to UHS Students from Mrs. Schmitz
Mrs. Amy Schmitz, Principal
Wednesday, April 01, 2020
Hello United High School Students, I'm sure that you received the news that Governor Pritzker extended remote learning through April 30. As Educators, we share in the disappointment of not seeing and interacting with our students everyday. That is the best part of our day. This difficult situation surrounding the Coronavirus will be remembered for many years. We cannot control the circumstances of these challenging times but we can control our responses with creative and resourceful measures. "When life gives you lemons, make lemonade." I know that together, we can be United and continue to make great things happen. In this presentation, I'm going to talk about contacting teachers, improving your grades and reserving important dates.
First, we are concerned about students who have yet to make contact with their teachers. If students do not have internet access then they need to call the school and talk with Mrs. Schmitz. Our school number is 309-734-9411. Our office hours are Monday through Thursday 8am to 3pm. Hard copies of assignments will be provided for students without internet access. Again, please make contact with teachers or call the school.
Next, on the subject of grading. If students failed classes in the 3rd quarter then they will need to do the work and earn a passing grade in order to receive a semester credit for those classes. Students will be required to take a credit recovery class this summer if they choose not to do the work during the remote learning period. Students, do the work now so you won't have to do the work later. It is all about earning credits.
For students who earned passing grades for 3rd quarter classes…..any assignment that will improve your grade will be graded and counted. If the assignment does not improve your grade it will be entered as a NO COUNT therefore not affecting your grade. This is a great opportunity to improve your semester grades, maintain educational skills and exercise your brain! Do the work!
One last piece of information with grading and completing the work….assignments may be submitted through Google Classroom, pictures and email. In addition, hard copies may also be dropped off at school buildings or mailed to the high school. Our address is 1905 100th Street, Monmouth, 61462.
The final part of the presentation is the schedule for future events. We are hoping for the best but also planning for the next few months. Please add these dates to your calendars. Prom---Saturday, May 9, Freshmen Orientation for Wednesday, May 13, Graduation---Sunday, May 17. We have also scheduled dates for the summer...just in case. Prom---Friday, June 12, Graduation---Sunday, June 14 and Prom---Friday, July 31 and Graduation---Sunday, August 2. We are fully committed to making every effort to give our students the opportunity to experience Prom and Graduation, as both are milestones for high school students.
Finally, if students or parents have questions or need help with assignments feel free to email teachers or call me at the school. We are here to help in any way.
Students, we love you and miss you. Please reach out to us so we can be there for you.
Let's continue to be United.