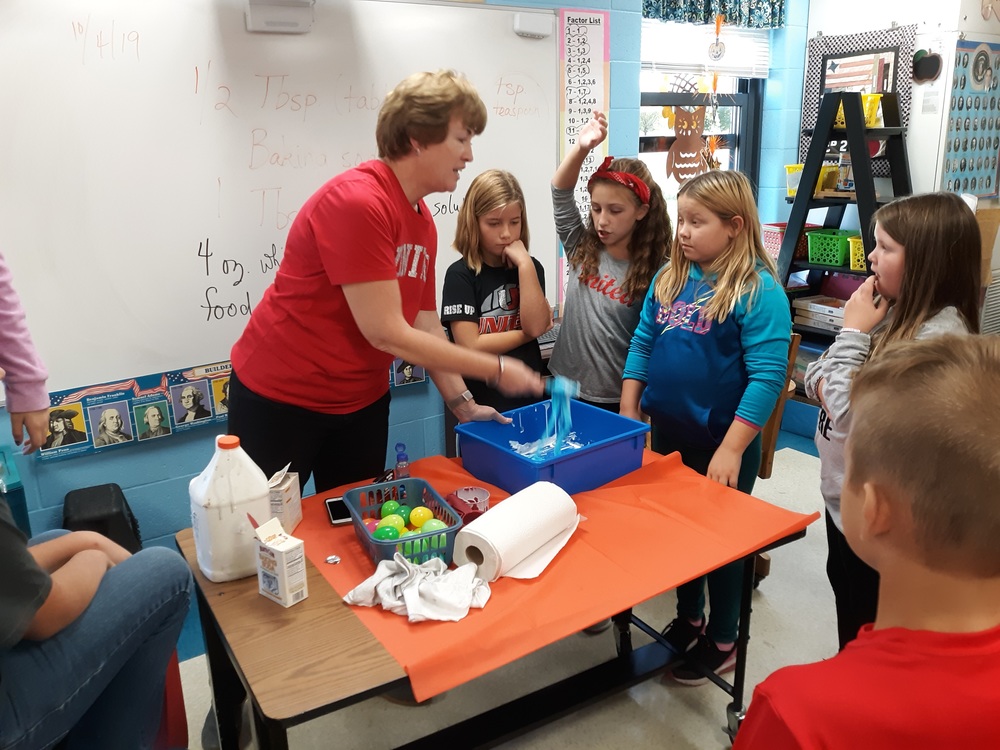 Fantastic Freaky Friday Fun!
Susan Caslin
Thursday, October 10, 2019
Students everywhere no doubt celebrate when Friday rolls around. But Julie Knapp's fourth grade at United North Elementary School has a special reason to celebrate. Every Friday is Freaky Friday in Knapp's class! And it has become a memorable tradition for students throughout the years.
Each Friday, Knapp conducts a surprise demonstration or experiment. It's part of her science class, but it can be tied into any part of the class curriculum.
To build the suspense, Knapp gives students few, if any, clues about the upcoming experiment. Students only know that it is highly likely to be tied to their current studies.
"Then I list the ingredients or supplies or what's required to conduct the demonstration," she explained. "They have to write that down and then they have to hypothesize what it could be."
The student with the most sensible, detailed hypothesis – although perhaps not always the correct one – becomes Knapp's aide for the demonstration.
Coming up with ideas for demonstrations and experiments that will interest her students has become increasingly challenging for the veteran teacher, who began the Freaky Friday tradition in 1997 when she was teaching third grade. In the early years, she recalls, any experiment "wowed" the crowd.
"Since YouTube, they can Google and watch anything," Knapp said. "So, that has sort of changed things a little bit. Now they've seen it. Now they've done it."
Two weeks ago, her class launched a balloon on a zip line across the room. It's not a difficult demonstration, but it's a popular one, she said.
"That's always a big deal because they're surprised a teacher would do that," she added.
In the past week, the class cheered Knapp when she announced their latest demonstration – creating slime. Some jumped out of their seats in anticipation, exclaiming "You're the best teacher!"
"The slime is always a big hit," she said hours before the demonstration.
'Elephant toothpaste' – a combination of yeast, dish soap, 20% hydrogen peroxide, and food coloring mixed together to create a foaming mass – is also popular, as are any experiments students can eat. In fact, the popularity of the latter has prompted Knapp to consider conducting a kitchen chemistry project once a month.
"I always have an April Fools one where I trick them – a prank," she continued, laughing.
Not long ago, students heated rocks in a toaster oven to observe porous properties. Adding crayons to the tops of the rocks also turned it into an art project.
Linking one demonstration with a history lesson on the Oregon Trail, students last year made a Jacob's ladder folk toy. The toy normally consists of blocks of wood held together by ribbons or strings. When flipped, it creates a visual illusion.
"We try to incorporate it into the curriculum whenever possible," Knapp said. "And that's the beauty of it. And it might be some gadget they make and we can keep."
The demonstrations are easy and safe enough for kids to follow up on their own.
"I usually do try to do things they can do at home," she said.
Knapp derived the idea for Freaky Friday from Carol Heath, a fellow teacher and friend who taught Knapp's own daughter in first grade at Steele Elementary School in Galesburg. Heath, a 30-year veteran who is now retired, had a Freaky Friday event in her own classroom once a month.
"I probably had easier access to ideas than she did," Knapp recalled, noting that Heath had to research her own ideas via books, whereas Knapp can research ideas via the Internet and can continue to develop new ideas.
"Because of the way they can Google stuff and make stuff, I had to get creative and make up new ones," she continued. "And I get kind of bored with them too."
"And, honestly, there are things that flop, and that's OK," she explained. "We talk about that. If I try a new one and it doesn't go well, I'll prep them for that: 'We don't know how this might go.' "
At times, with an experiment involving supplies that Knapp can't waste, the experiment in front of students is the trial run.
Scientists place great value in learning from their mistakes, and Knapp expects students to do the same.
"That's part of our conversation," she said. "We will learn. Last week, when we did the balloon across the room, we just let it go. But then we talk about what can we change to make it go farther and faster. Let's change one variable at a time."
There was a time when students memorized scientific words from their science chapters. Knapp introduces that vocabulary as she conducts her demonstrations and experiments.
"And they spit it right back at me as the year goes on," she said, laughing. "They use those words, and that's good."
Early in the school year, students inevitably hypothesize that her experiments will explode, before they catch on that it's unlikely Knapp will conduct experiments that will explode. There have been no disasters over the years. Students become more realistic and serious in their hypotheses and adjust their expectations.
"It sort of makes them see things a little more realistically – what you see on television or YouTube isn't always real."
Knapp often hears from students and parents about Freaky Friday.
"Especially many years later," she said. "Maybe in the moment they don't [say anything], but I have kids come up to me and say 'I remember Freaky Friday!' That has been happening for many years. "
The district's superintendent recently contacted Knapp to tell her that a former student recalled her and her Freaky Friday class, although he was in Knapp's class for only a short time.
"I do hear about it a lot," she said.
Knapp gets a lot out of Freaky Friday herself.
"It gives me something to look forward to on Fridays," she said. "I love seeing their faces. They just love it. And I love keeping the secret all day, and I make a big production about that. So the big reveal is always fun."
It gives her a chance to recreate her own fourth-grade experience, she added. "I'm kind of doing this for me," she said. "It's fun for me too."
Every student gets to participate in the demonstration, Knapp noted. She sees substantial detail in most of the students' hypotheses, and she ensures every student gets a chance to help. Students on all levels academically also benefit. The student who isn't a strong math student often develops a great hypothesis. Another student may bring their engineering instinct into the discussion.
"It sort of brings everybody to the table," Knapp said.
Students also participate in team-building demonstrations, such as stacking cups into a pyramid without speaking, using only cups and rubber bands.
Katie Dutton was in Knapp's class last school year. She said the experiments made science easier to learn.
"I like it because it's fun," she said of Freaky Friday. "Sometimes she played a trick on us, and they [the demos] teach me science."
John Harrison is in Knapp's class this school year. He admits he wasn't a fan of the slime demo, but he likes Freaky Friday.
"It's kind of fun," he said. "I can't wait until the next Freaky Friday."
Teaching science no longer means reading a chapter in a book, memorizing some scientific words, and answering questions on a worksheet, Knapp noted. Students once had to rely upon memorizing what they needed to know.
"That's fine, but it doesn't stick with you," she said.
Hands-on learning is where it's at today.
"When we talk about the static properties, the cohesive properties of water, how many drops of water will a coin hold -- they figure that out and they use those words that they didn't know they knew, and they know more about it than they thought."
"They're not going to remember everything I taught them, but they're going to remember Freaky Friday," she continued. "And they're going to remember how I felt about it and how it made them feel."